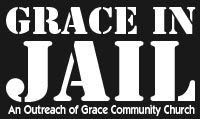 …
I love prison ministry.
There are times when I am used by the LORD to minister to family members or friends of inmates.
Last night a group from our church met in the lobby of the jail. We were waiting to be checked in and searched so that we could conduct our bi-monthly church services. Our group is identified as Grace in Jail. It's a play on our church name – Grace Community Church.
The lobby is usually packed with family members of inmates… they often wait for hours for an opportunity to visit with their loved one for only fifteen minutes.
There was a woman there last night… her eyes were brimming with tears. She asked if we were from Grace Community Church. She said she had just started attending our church a few weeks ago.
Long story short…. the LORD used me to minister to her and her husband. Their daughter had just been arrested that day. They've never dealt with a circumstance such as jail before…
I was glad to be there…
……. doing what I do best.

There is Grace in Jail.
Love always,

Rachel